Kate, a native of Wyoming and another miracle, confesses she was a wild teen when she got pregnant. "I wanted to do life my way, not God's way," she says. "I now realize that my way was so much harder." Kate took online college classes while at Saint Gianna's, staying with her "family" until son Dominic turned two. She is now a licensed massage therapist.
Miracle babies and transformed lives. That is what Saint Gianna's offers its residents. The love began with St. Gianna, and it continues "one mother, one baby, one family at a time."
To learn more, or to make a donation, visit saintgiannahome.org or write to Saint Gianna's Maternity Home, 15605 County Road 15, Minto, North Dakota 58261. Women in crisis pregnancies may call (701) 248-3077.
---
1. St. Gianna Beretta Molla, "Gianna Emanuel Is Born," accessed September 18, 2020, saintgianna.org/giaemmanual.htm.
2. St. Gianna Beretta Molla, "Lover of Life," accessed September 18, 2020, saintgianna.org/loveroflife.htm.
Sidebar: A Miracle Shrine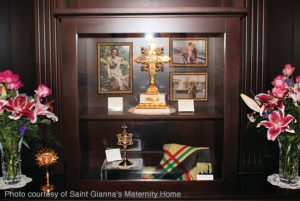 St. Gianna believed in making the truth visible and lovable. Her "visible truth and love" lights up the Shrine of Saint Gianna, a side addition to the home's Visitation Chapel. Photos of St. Gianna and her family line the walls, along with copies of love letters written between Gianna and her husband, Pietro. The shrine also boasts several relics of St. Gianna, all gifts from her family. A first-class relic—a piece of the saint's hair—is mounted atop a second-class relic, a swatch of fabric from her tailor-made honeymoon suit. Other second-class relics include a piece of material from St. Gianna's wedding dress and a beautiful scarf.
St. Gianna's love continues from heaven, as evidenced by the miraculous answers to many prayers offered at the shrine. North Dakota residents Brad and Wendy Simek had been trying to conceive for several years when they, and others, begged St. Gianna to intervene. And did St. Gianna ever deliver! On July 8, 2010, Wendy gave birth to not one, not two, but three miracle babies: Olivia, Jackson, and Gianna!
St. Gianna is also a powerful intercessor in problem pregnancies. Rachel and Travis Bushaw of Oslo, Minnesota, were 20 weeks pregnant when an ultrasound revealed their baby had multiple brain cysts and numerous heart problems. If the baby made it to full term, she might live but minutes or hours.
When Mary Pat received word of this devastating diagnosis, she passed on relics of St. Gianna. Rachel wore one relic around her neck and a second on her growing belly. A subsequent ultrasound showed no heart problems and only one cyst on the brain—a cyst doctors said would dissolve over time. On June 18, 2009, the couple gave birth to a healthy baby girl—a girl they christened Gianna Marie.
The home's staff and the Franciscan friars of Warsaw pray daily for prayer requests received at the home. Requests can be e-mailed to saintgiannahome@hotmail.com.
An award-winning journalist, Marion Amberg has written for more than 100 publications and frequently covers topics of faith. She is the author of Penny Prayers: True Stories of Change (Liguori Publications) and of the spring 2021 release Monuments, Marvels, and Miracles: A Traveler's Guide to Catholic America (Our Sunday Visitor).
Copyright 2020 by Celebrate Life Magazine and Marion Amberg