by Marion Amberg
As published in the Fall issue of Celebrate Life Magazine (https://clmagazine.org/). All photos courtesy of Saint Gianna's Maternity Home.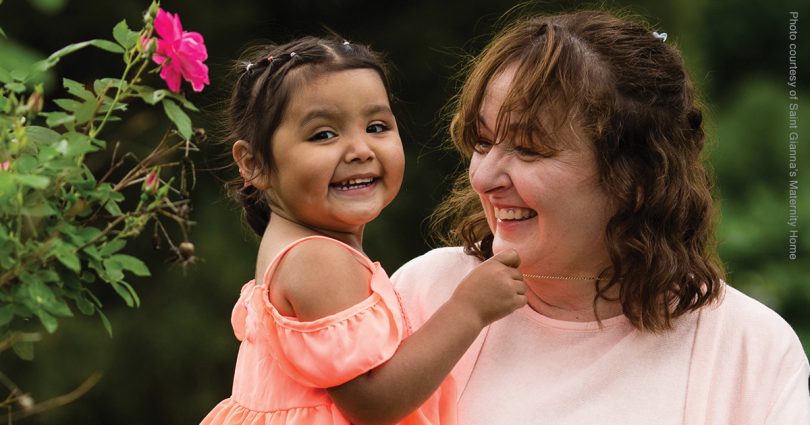 Mary Pat Jahner with her adopted daughter, Aubrey Rose Joy
On March 18, 2020, Fr. Joseph Christensen, three pregnant residents, and the staff of Saint Gianna's Maternity Home in Warsaw, North Dakota, walked the grounds in Eucharistic Procession and prayed for protection from the rapidly spreading novel coronavirus. They then entered the old convent school and locked the door. Their sheltering in place had begun.
Heaven shielded not only them but St. Gianna's own daughter, Gianna Emanuela Molla. An Italian, Gianna Emanuela, who was traveling in the US when the pandemic broke out, took refuge in the maternity home she had previously visited several times until she could safely return home to Milan in August.
This isn't the first time St. Gianna Beretta Molla (1922–1962) protected her daughter. Saving children—her own and others—is part of St. Gianna's astounding legacy. When the Italian Catholic pediatrician was pregnant with Gianna Emanuela, doctors discovered she had a uterine tumor. "If you must decide between me and the child, do not hesitate . . . save the baby," Gianna heroically told them.1 She believed "the right of the child is equal to the right of the mother's life."2
Her baby, Gianna Emanuela, was born on April 21, 1962. St. Gianna died eight days later.
A speck on the map
Like St. Gianna, Mary Pat Jahner, the director of Saint Gianna's Maternity Home, cherishes and wants to save babies. A North Dakota schoolteacher,